I had the opportunity to interview Olivier Masmonteil during his recent exhibition at the Patio Opera. The ninth artist invited by Art [] Collector (an initiative of private collectors who showcase artists they appreciate) he was presenting Le Bain de Diane – a series of paintings inspired by classical models of Diana Bathing.
It is not the first time that Olivier Masmonteil uses subjects from classical painting and the past has a unique quality in his paintings, hovering like a memory frought with meanings, ghosts of world views that only emphasise the permanence of painting : the nude goddess is only a silhouette treading water for the viewer's imagination, the antlers of a male stag are worn like a tiara by a bashful female, while the landscape, radiating with light and Ovidian magic, seems eternal.
Besides the pleasure of recognizing ancient models infused with new life and enjoying the shifts in tone that introduce tattoos on the skin of women, fluorescent tones, the glamour of cinematic poses, or the self-assured eroticism of contemporary women inside atemporal landscapes –  Olivier's paintings are a feast for the eye, alive with colors, which, as much as the mythological topic, evoke historical and painterly associations. A palette out of time and out of this world : a self-contained world in paint.
I was particularly fascinated by some blue, rich with Dutch opulence, puzzled  by the harsh orange and bold green, the muddy tones of his backgrounds. And so, I had to ask.
Olivier Masmonteil speaks as easily as he paints – without apparent effort, the technical terms and the passion flow equally, the questions bring words, associations, references. Olivier is never at a loss for words, his thoughts preceding our attempts to unerstand his painting.
Maybe because it is the last day of the exhibit, and he is itching to go back to the studio, he speaks first of the importance of long periods of immersions for him, the need for exhaution.
"Exhaution is necessary. It helps me to let go. It is indispensible when you want to find a less sophisticated gesture.
I usually work from 6 to 18 months on the same theme. And it takes two months after that for the desire to paint to come back.
I discovered I needed this rythm when I lived in Germany in 2004-2006. My German was poor, I was left to myself, and so I had nothing to do but work at the studio. And I discovered how good it felt. I discovered the benefits of immersion. As in my series of a thousand paintings [a series of yes, a thousand paintings on the state of the sky].
He pauses, speaks more slowly. 
Painting lives in a time of its own. The time unit in painting is ten days or so. At least, it is my unit. When you start on a series, it's also ten paintings or so. So the time you ned to go from one to the other is ten days. Then you take a break. Then you start over, and in the end it takes 60 days to do anything.
I don't know how else I could enter the universe of another painter. Understand the touch, the palette, take from them what will become mine. You need to become completely staurated with an influence, and I find this saturation in a state of exhaution.
When you have models as distant as American Abstraction, Minimalism, Baroque painting… I would become crazy if I thought too much about how to reconcile these languages. That's why exhaution is important too.
I ask him about his colors, some blue, some red I noticed in his most recent paintings. Do they have a special meaning? 
I am lucky to work with Marin [an old French company that manufactures material for painters and support living artists]. I have my own red, a light red, a green, and two blue. One is ceruleum, and the other is a light Royal blue, so light that I sometime use it instead of white.
Green is always a bit special in the chromatic circle. When you make secondary colors, like orange or violet, you don't have the same magic. Blue and yellow turning to green, a completely different color. Which is why I always think that green is unique.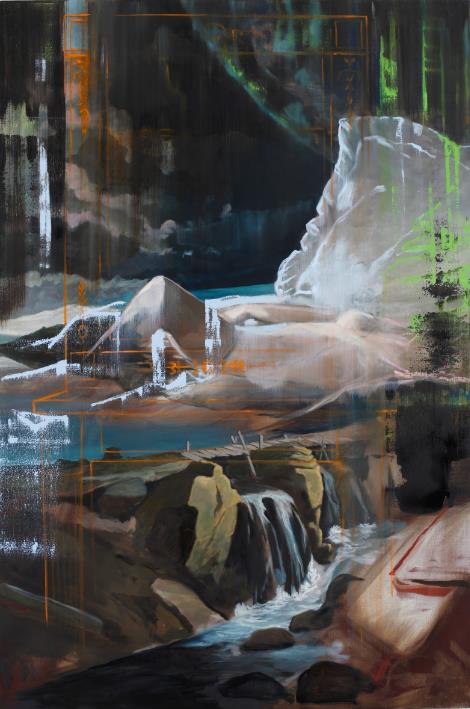 I always start on a red background, a mix of Cassel earth and red [Cassel earth is a deep semi-transparent brown color, supposed to be the color used by Rubens and Anthony Van Dyke]. It's earth, so it doesn't spoil you colors.
Why is Diana only a silhouette in orange in your last series? 
I draw only an outline, it is enough, it is not a full bodied incarnation, more the "fisherman's fantasy" [Olivier Masmonteil often escapes to go fishing after his immersions in the studio; he has probably met the fisherman's fantasy before, but I forgot to ask him]. She touches the water to show the fisherman where the fish are. Water, painting, sky : all these are ambiguous surfaces, and I am fascinated by them both as a fisherman and a painter.
With the surface of the canvas, it is enough to add one touch of color, and you have an opening into the mystery.
As for the story, I use it for the impulsion it gives you. It is rooted in memories and fantasms, passages from litterature : a fisherman happens by chance upon a naked woman. But when you tell a story, it escapes you. Ten years later, the collector who has bought the painting and lived with it will tell you the story and it will be different again.
The artist works intuitively. It is a mistake to think that the artist is someone who anticipates. A normal artist lives searching.
OLIVIER MASMONTEIL
Born 1973, Romilly-Sur-Seine, France
Lives and works in Paris
He is represented by Galerie Dunkan